Let's get clear on the impact on public transit if the Greenway Measure passes. It would:
Remove General Plan language that calls for the rail corridor to be preserved for future passenger rail transportation
Support using existing trestles and railbed for "interim" use as the Greenway (a paved path for bicycles and pedestrians). The measure doesn't define "interim", but states that railbanking preserves the option for future rail use.
"Railbanking" is a legal strategy to preserve a right of way when there is a conversion from freight to other uses such as a trail. The federal Surface Transportation Board has approved well over 1000 railbanking proposals. Only in one percent of these conversions has rail service been restored to the right of way.
People on both sides of this debate agree that if the Greenway Measure passes, the practical impact would be to end the potential for passenger rail service on the corridor for the foreseeable future.
Let's get clear what will happen to the trail if the Greenway Measure passes.
The Regional Transportation Commission's current plan is a trail alongside the railroad tracks. Portions of this trail have been built in Santa Cruz and Watsonville. Several more segments are moving towards breaking ground.
The Greenway Measure would set aside this plan in order to pursue railbanking and abandonment of the freight easement. This process could take years and the outcome is highly uncertain. The Surface Transportation Board's usual practice is to oppose abandoning freight on a line if that would isolate a rail operation from the rail network. In this case, removing the Watsonville to Santa Cruz tracks would cut off the Roaring Camp tourist train from Felton to Santa Cruz from the rest of the rail network. According to the STB staff, if Roaring Camp provides evidence showing a need for freight service on its line, this would weigh heavily against approval of the abandonment.
Let's keep our future options open
There are currently no viable alternatives for most commuters stuck in traffic on Highway 1.
Auto dependency forces people to spend a large portion of their income on transportation.
Dependency on petroleum for our transportation leads to wars and injustice.
Auto-centric thinking is driving a plan to spend local dollars on Highway 1 auxiliary lanes that Caltrans predicts will not reduce traffic congestion or improve safety.
We need to develop alternatives to auto dependency.
Let's not shut down our future option for clean, safe and reliable transit that runs through the heart of our community. Transit on the rail corridor could be the catalyst that brings about a change in how many of us get around, with connecting buses, ride sharing and e-bikes bringing us to our final destinations.
We are on the verge of a transportation revolution that is what we need to respond to our climate emergency. This revolution includes freight carried by electric trains. If we rip out our rail infrastructure now, the next generation will suffer the results of our shortsightedness.
Vote No on the Greenway Measure.
LINKS to background information: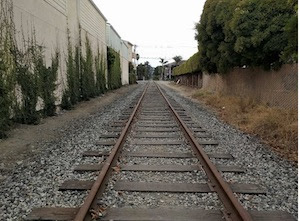 Why We Need Consensus
After this election, we need a dialogue process to resolve this community conflict. Here's why:
No Tax, No Transit According to the Regional Transportation Commission, it won't be financially feasible to develop transit on the rail corridor without a substantial local funding source. We think it is highly uncertain a tax measure can win at the ballot box given the substantial community opposition.
No Abandonment, No Greenway Similarly, we think it is highly uncertain whether the Greenway vision will be implemented if this measure passes. That's because in order to build the Greenway, the County would need to use railbanking to preserve the right of way for public use, once the easement for freight has been abandoned. Railbanking has been used by various communities who have converted rails to trails. However, our correspondence with the Surface Transporation Board (STB) suggests that there is a great deal of uncertainty over whether that agency would grant the abandonment of freight on our corridor given that would disconnect the Felton-to-Santa Cruz line (used by Roaring Camp) from the rest of the rail network. No abandonment, no railbanking.
Stalemate We think community dialogue is the best way to find common ground and move forward on a plan for the corridor.